The Palacios Community Hub announces that the 'Palacios Youth Initiative' is one of the winning causes in the National State Farm Neighborhood Assist program.
It took three weeks of consistence Facebook sharing, thousands voting daily,  for Palacios Youth Initiative to receive over 39,000 votes and fight its way to the number 30 slot of 200 Causes.
State Farm® announced the Palacios Community Hub's 'Palacios Youth Initiative' with assistance from the Rural Literacy Coalition, will receive a $25,000 grant to improve the Palacios community.
More than 82,000 people took to Facebook during the nearly three-week State Farm Neighborhood Assist voting period and the Palacios Youth Initiative received 39,867 votes, to come in 30 among 200 finalists and 40 winning causes.
"Thank you supporters, community of Palacios and all those who took the time to vote.  Each and every vote mattered," said Palacios Community Hub Coordinator Brandi G. West.
"The Palacios Community Hub's Teen Center will allow teens to engage in positive recreational and educational diversion activities; keeping youth intellectually and physically active and less likely to enter into the criminal justice system," said West.
To celebrate this victory for Palacios the Palacios Community Hub will host a celebration party on June 13 (next Friday) at 5 p.m. at the Hub, 205 4th St.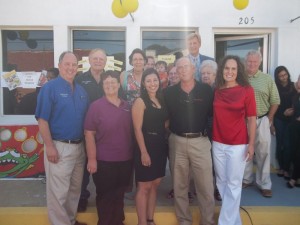 The Palacios Youth Initiative was one of 4,000 applications received by State Farm Neighborhood Assist; a youth-led, philanthropic program that empowers people of all ages to identify solutions to the most pressing issues in their communities.
The State Farm Youth Advisory Board, a diverse group of 30 students who are passionate about social responsibility, manages the program.  They reviewed each of the 4,000 cause submissions and selected the top 200 finalists using a scoring criterion they created. The 200 finalists then moved on to a public vote.  The top 40 causes, based on the most votes received, were each awarded a $25,000 grant for their community project.
"I'm overwhelmed by this exciting accomplishment which we attribute to the community of Palacios and all the individuals around the globe who share our belief  that housing a Teen Center at the Palacios Community Hub is a very important cause," said West.
"The strong engagement of the Palacios Community Hub with fiscal sponsor, the Rural Literacy Coalition, really shows how a community can rally together to solve local issues," said State Farm representative Ellaina Madera. "We look forward to watching Palacios make their neighborhood safer, stronger, and better educated with the help of State Farm Neighborhood Assist."