No Bullying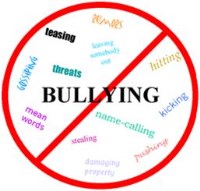 What is a bully?
Can adults be bullies, too?
How do parents change behaviors to ensure
bullying tactics are not being learned at home?
These are questions that will be addressed at the
Palacios Community HUB along with signs that your child is either being bullied or is a bully.
What:           Anti-Bullying Program followed by Family Fun Night
Facilitated:   by Leslie Machicek, RN, BSN, Wesley Nurse with
                        Methodist Healthcare Ministries of South Texas
When:             March 24
Where:           Palacios Community HUB located at 205 4th St.
Time:              6 p.m. – 7:00 p. m.
Target Age:    Pre-K through 3rd Grade
Combat bullying at home and provide your child with the tools needed to ensure Palacios ISD is bully free.
This program is being brought forth by Palacios ISD's School Health Advisory Committee and the Palacios Community HUB.
Questions contact:   HUB coordinator Brandi G. West 972-9990