Get Involved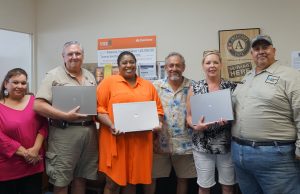 Alone YOU can make a difference, but together WE can make an impact!
The Palacios Community Hub has something for everyone: Kids and young adults, retirees, professionals, corporate teams, students, community service organizations, individuals and groups in search of meaningful projects.
Volunteer:
Volunteers are welcomed daily for needs such as: tutoring (adults and children), general office work, teaching life enriching skills, maintaining community garden and landscaping, and any talent you would like to share. 
Donate:
You can provide a one-time donation or help with ongoing operations by making a monthly pledge.  The Palacios Community Hub is a 501(c)(3) nonprofit organization, therefore all donations are tax deductible.  Contact us for more information or mail your donation to:  P.O. Box 385, Palacios, TX 77465.
You can also help by donating items needed to serve the Palacios community: